Flowscape Android app manual
This manual provides an overview of the smartphone app features:
Map Navigation - Move the map around and click on objects to open Quick View to see the specific object information
App menu - see your reserved desk, booked meetings or change app settings
Search function - search for colleagues, rooms and desks by name
Filter function - filter the map so that only objects based on your criteria are visible
Location finder - adjust the map and show your position
Room and desk booking - Book a meeting room or a desk directly or for future use
Other app functions include:
Map Navigation
Move the map around by dragging with your finger, spin the map by using two fingers. Zoom by dragging two fingers towards or apart from each other. Click on a specific object to open Quick View. Here, you see specific information about the chosen object. You can also Wayfind to the object or create an error report.
Object color indication:
Green indicates that a room or desk is available
Yellow indicates one of two things:
Either a room is not booked but someone is in the room (detected by motion sensors).
Or, the room is booked but the meeting hasn't started yet, i.e. "check-in time"
Red indicates that a desk or room is booked and not available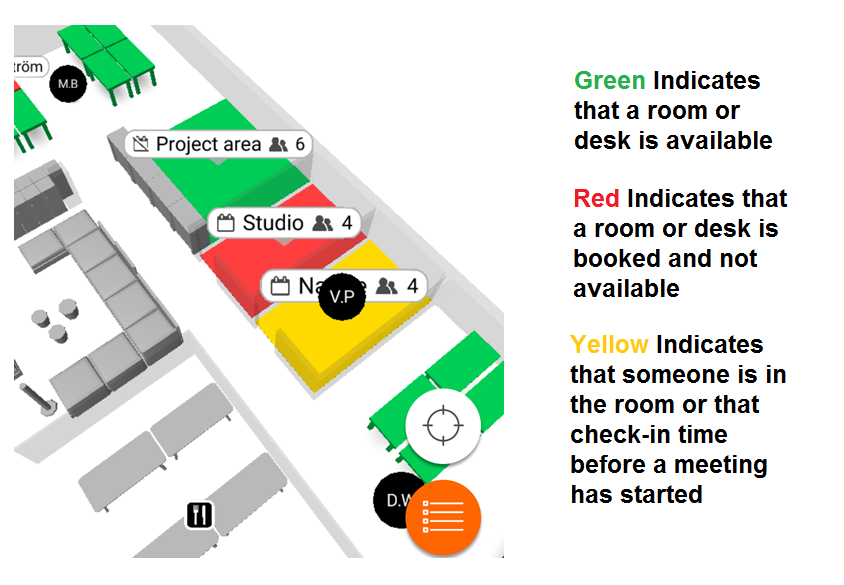 Select Day
You can view your colleagues desk bookings for the future and book desks for the future by selecting a date under the menu tab "Select day". The map will then display all office bookings for that particular date.
Select building or floor
Click on the Select building or Floor button on the lower left of the map to switch between floors or buildings (if your office has several floors or buildings).

My Page

From "My page", you can
View your meetings and booked meeting rooms. You can locate the meeting room on the map by clicking "locate" or remove your booking by clicking "Remove"
View your desk bookings. You can locate your reserved desk on the map by clicking "Locate" or remove your reservation by clicking "Remove"
Turn on invisible mode, making you invisible on the map for others
Change the map view to 2D, or turn of map rotation
Search function
Search for colleagues
Search for a desk
Search for a meeting room
All searches are based on colleague or desk/room names
Filter function

Filter by rooms or desks
Filter by bookable or non-bookable rooms
Filter by available rooms or desks
Filter by equipment
Filter by visible colleagues, signs or error reports
Reset your filter by re-storing your options.
View your location
Click on the Location button to see your location on the map in the shape of an arrow
Room and desk booking
Click on "Book" to search for a meeting room or desk suitable for your need. You can either book for the day or in advance. Read more about booking meeting rooms HERE.