FlowPlanner is a web application that empowers employees to efficiently plan their attendance in the office. Flowplanner enables staff to tag specific colleagues to view when they will be in the office, so they can then book the same days if they need to collaborate on project work. Employees can set up a 'colleagues list' to scan all of their future office attendances with just one click. And with one further click a desk or workspace can be booked.
Open FlowPlanner in Webapp
Click on the menu bar "Flowplanner" Next to the left-side menu in Flowscape's web application.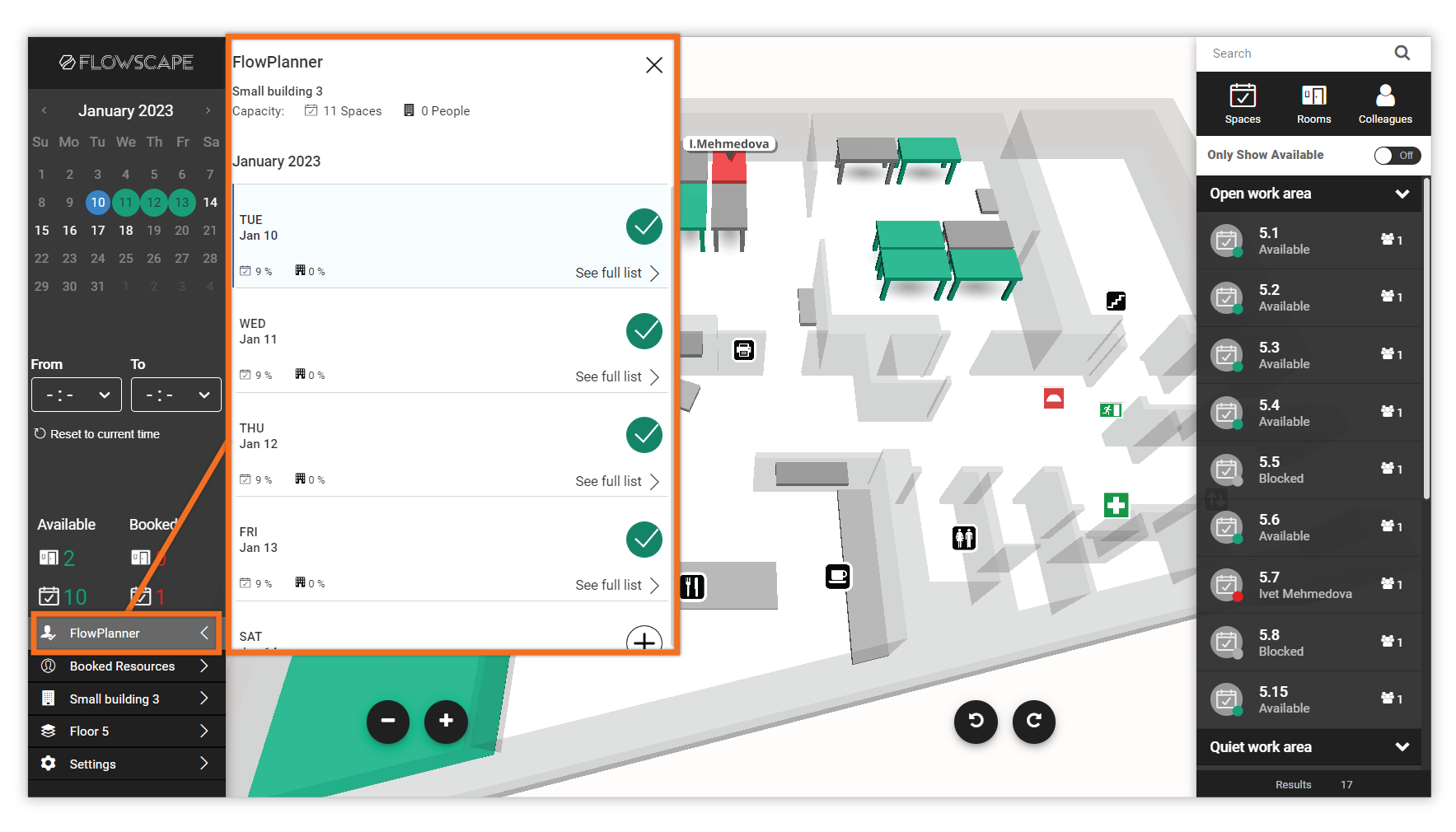 The FlowPlanner Window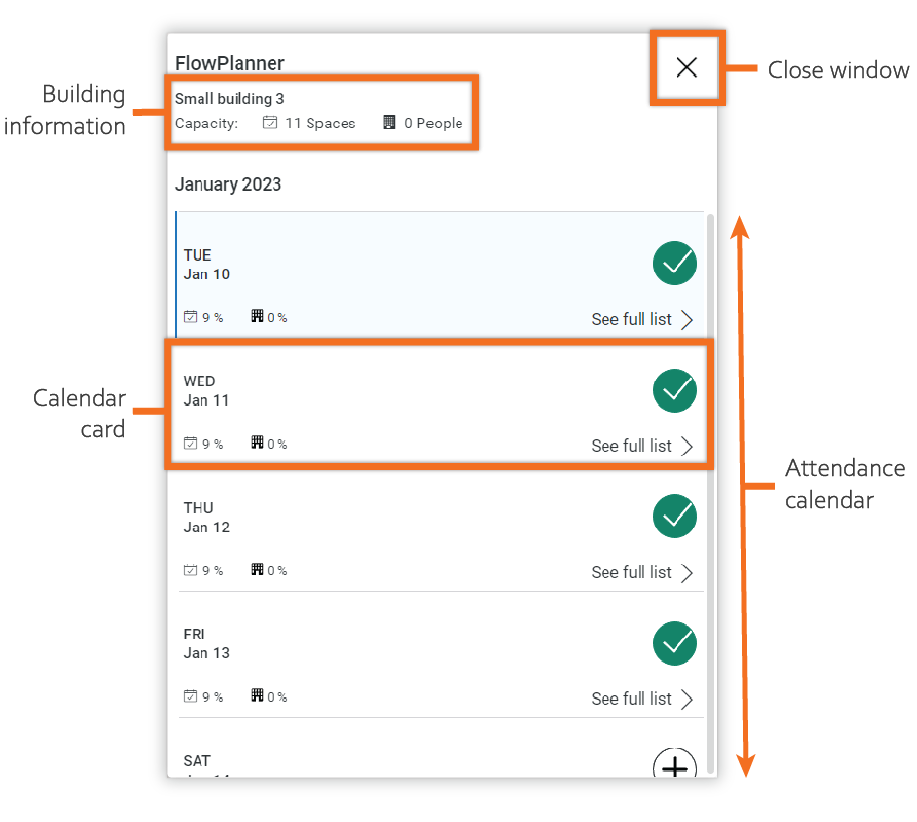 The FlowPlanner window displays all information about overall building capacity, registered office attendance and remaining office capacity for each day.
In this manual, we will go through
Building information
Attendance Calendar
Calendar cards
Building Information
At the top of the Flowplanner window, you will see information about the building and its maximum capacity.

Name of the building – This window displays the name of the building.
Spaces – The exact number of bookable spaces available in the office, spaces can be lockers, desks, or parking spaces.
People – the exact number of people the building has the capacity for
Attendance Calendar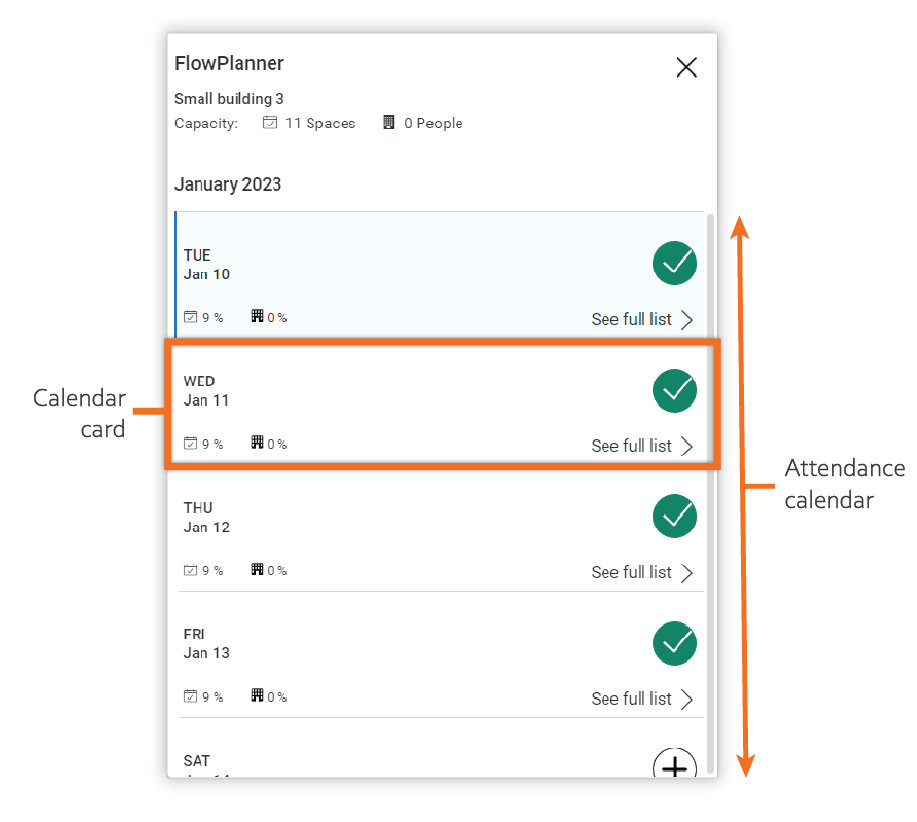 The window displays a calendar card for each day two weeks ahead of time by default but can be configured to display different time periods in the Flowscape Portal. From the attendance calendar, you will be able to
Register attendance at the office for a specific day
View list of colleagues who have registered attendance
View the percentage of spaces booked
View the percentage of office capacity reached for the day
Calendar Card
Each Calendar Card in the attendance calendar displays information about
Date
Percentage of spaces booked
Percentage of office capacity reached
Icons of your selected colleagues

How to use the calendar card information – some examples
From each card in the attendance calendar, you will be able to