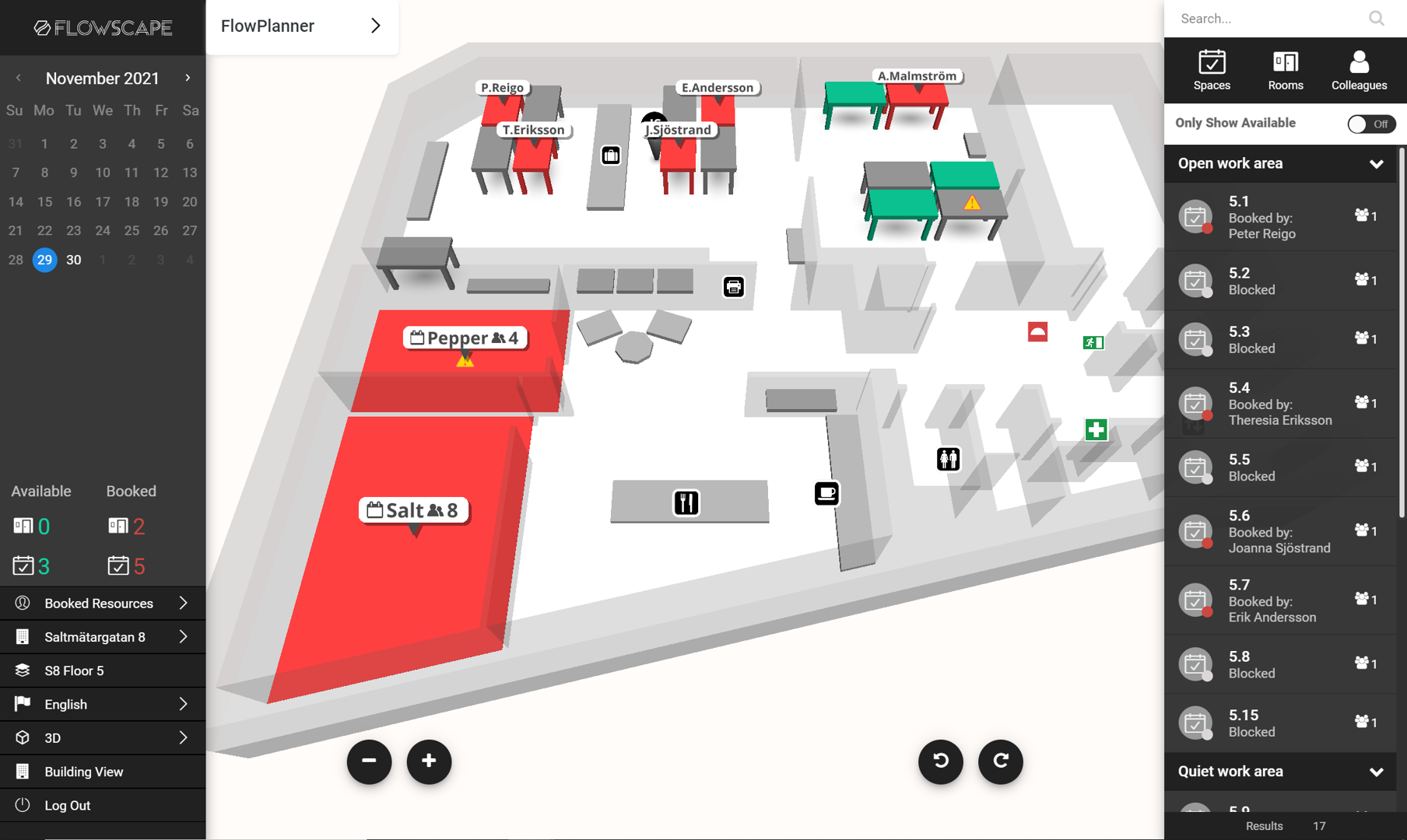 The Flowscape Webapp shows an interactive map of your office and shows available resources, colleagues space bookings and future office attendance. When using the Webapp, you will be able to
Use the Map to get a clear overview of your office and find office resources
Book spaces and meeting rooms in advance or ad-hoc
Use the calendar function to see future bookings made for a specific day with the option to also book a space
use FlowPlanner to register office attendance and see colleagues future office attendance
Filter & Search after specific resources or colleagues to find their location or bookings.
View a list of all your booked resources during a day.
In this Manual, we will go through the most basic functions of the Webapp, including
How to navigate the map
Webapp Calendar
Resource availability overview
Building Menu
Filter & Search
Quick View
FlowPlanner
1. How to Navigate the map
To move around your office, use your mouse to drag the map.
Rotate the map by pressing on the rotating arrows in the bottom right corner
Zoom in and out by pressing + or – in the bottom left corner.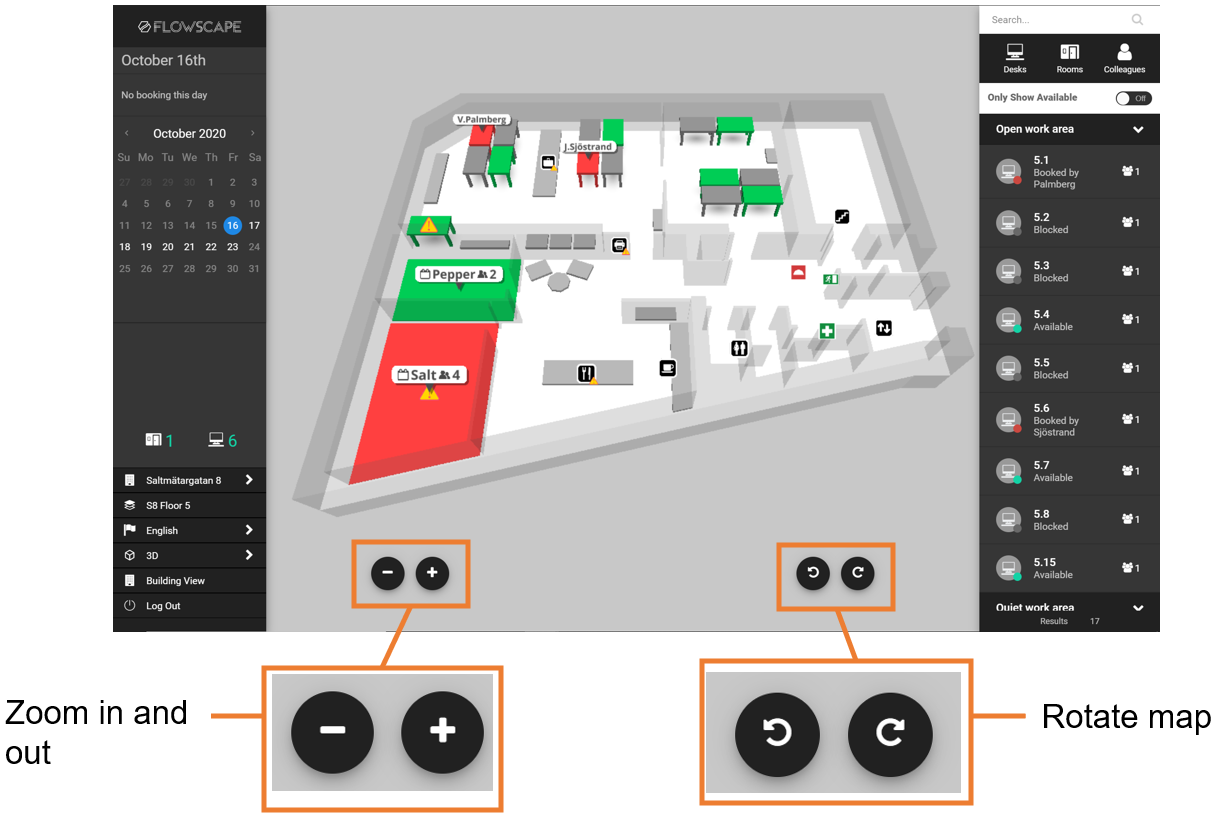 2. Webapp Calendar
The Webapp Calendar is located in the left side menu bar.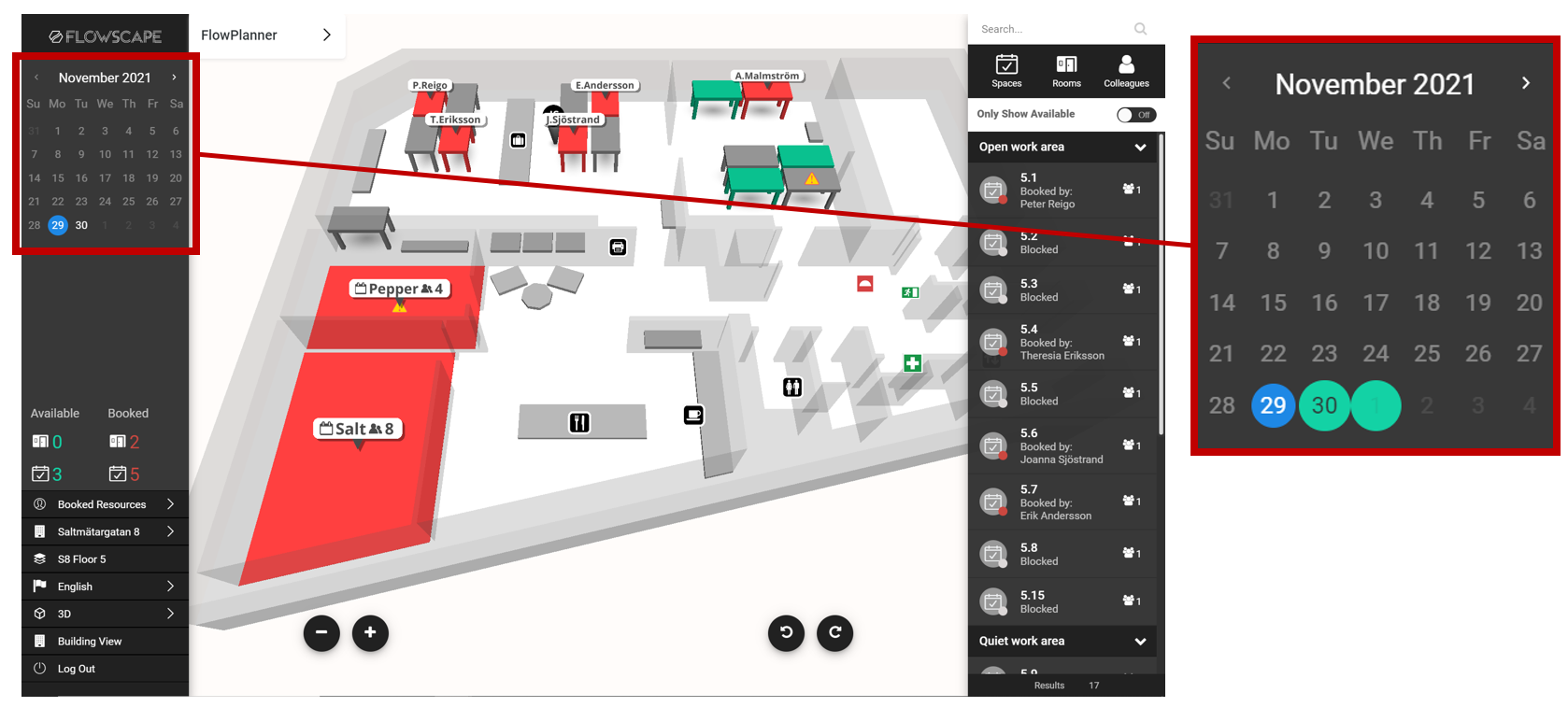 Days where you have booked a space or registered office attendance in FlowPlanner are marked as green in the calendar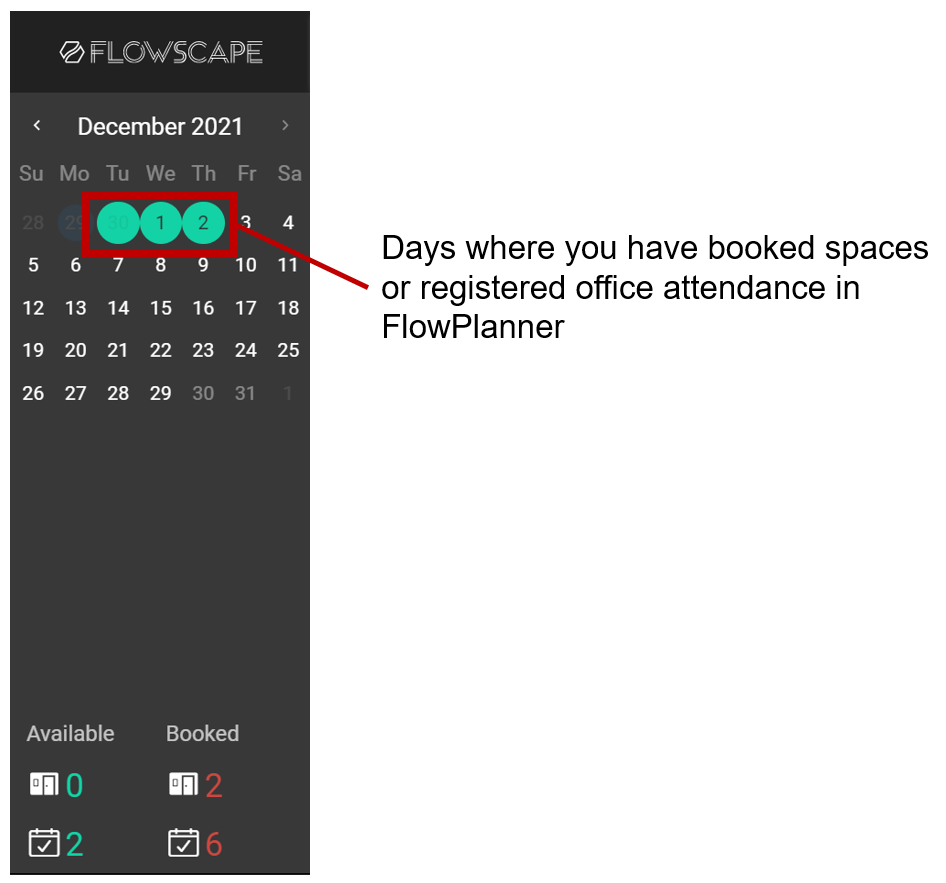 When clicking on a certain date in the webapp calendar, the FlowMap will change to display the space bookings made for that selected day.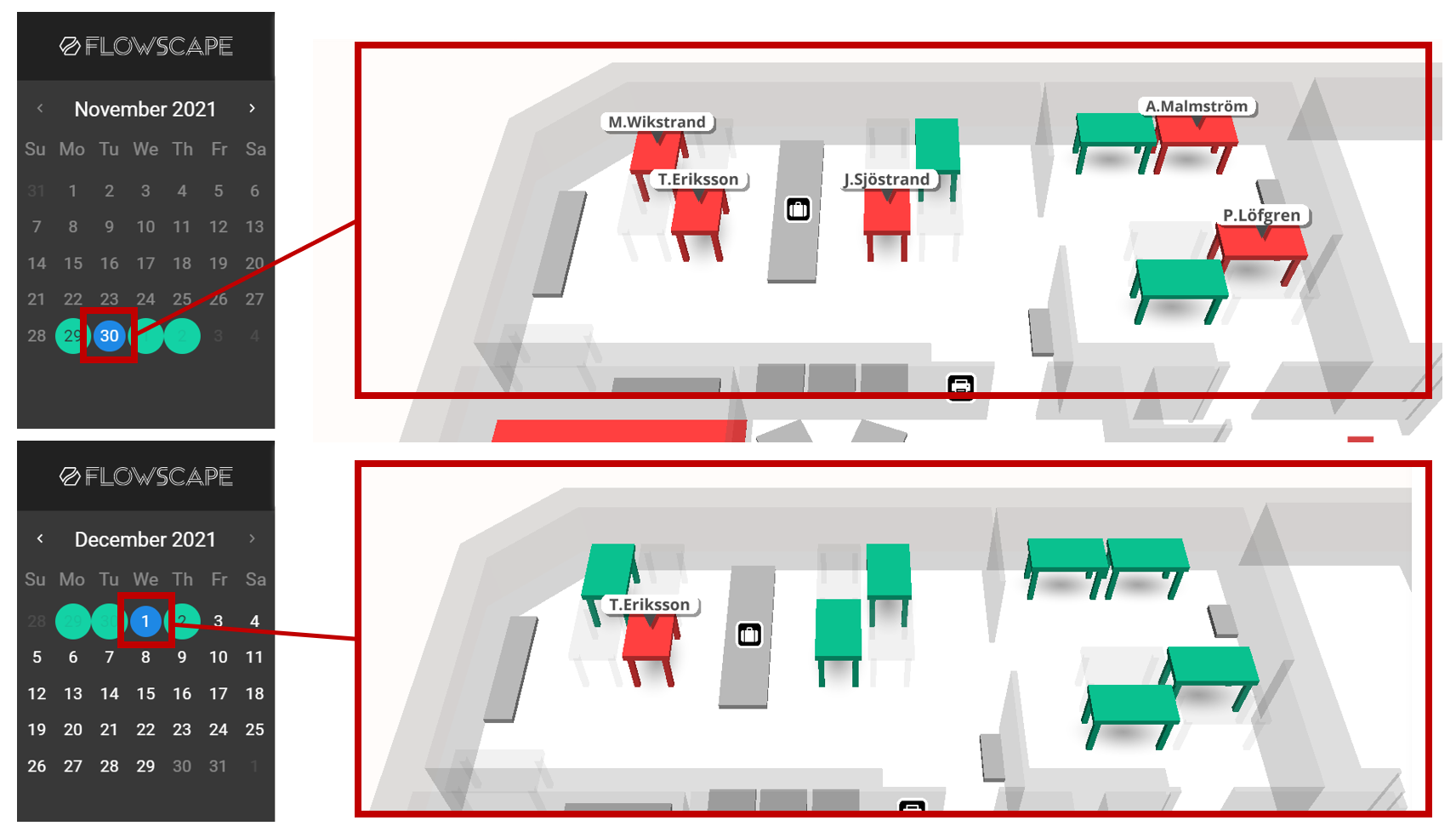 This enables you to get an easy overview of future space bookings and your colleagues future office attendance.
Want to know how you can book a space? Read our maunal here.
3. Resource Availability Overview
In The left side menu bar, you can find an overview of all the available spaces and rooms in your office, the information displayed in this window changes depending on which date you have selected in the webapp calendar.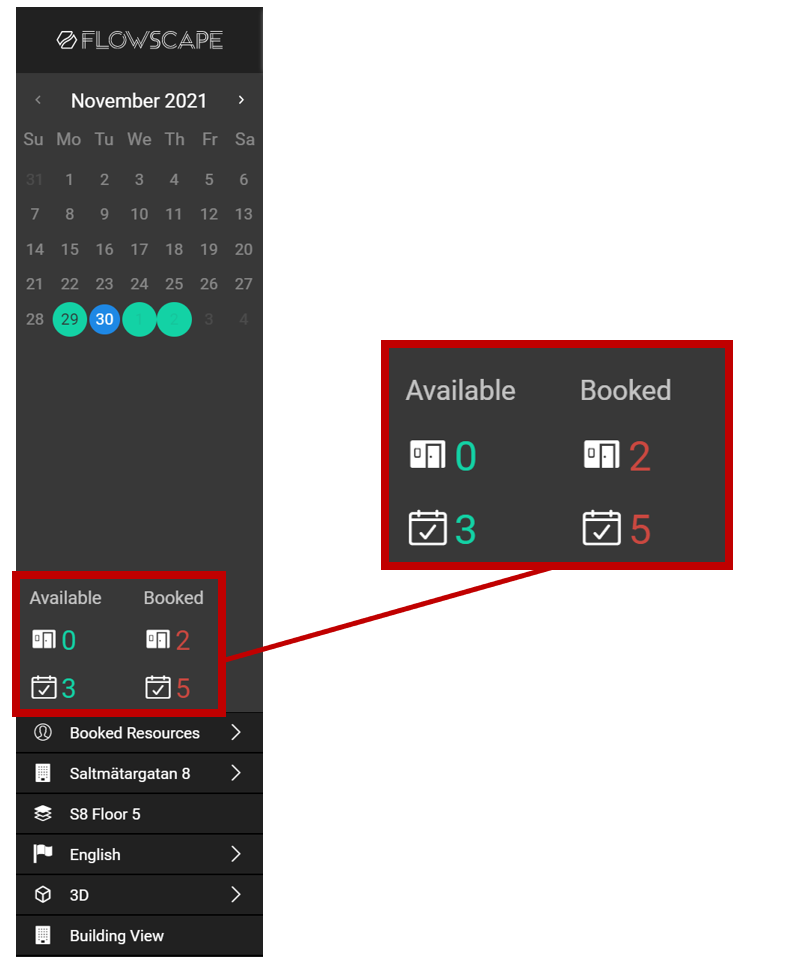 Meeting Rooms

Spaces
Note: Meeting rooms are marked as booked if someone has booked the room during any time period during the day. A meeting room can still be available even if its marked as booked in the availability overview. Make sure to check the meeting rooms quick view window to see the full schedule.
4. Building Menu
Here you can view all your resource bookings for the day, change floors and building, webapp layout and language. Note: information may vary depending on the application configuration.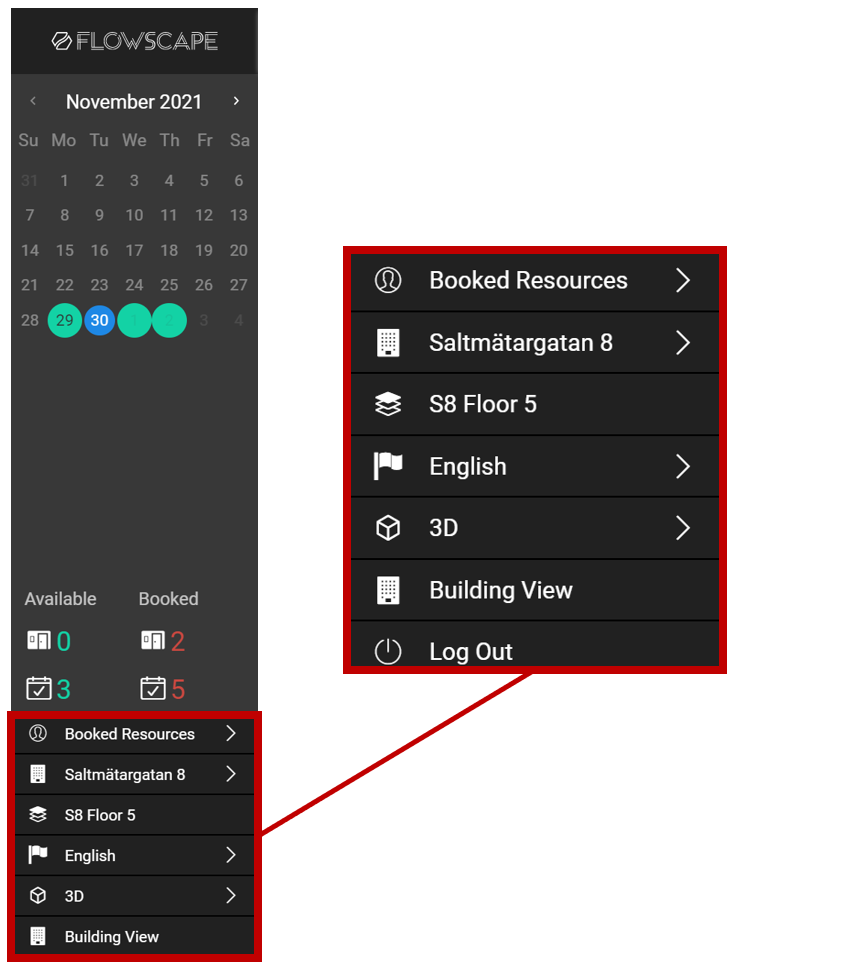 From "Booked Resources" you can also cancel bookings made by clicking on "x"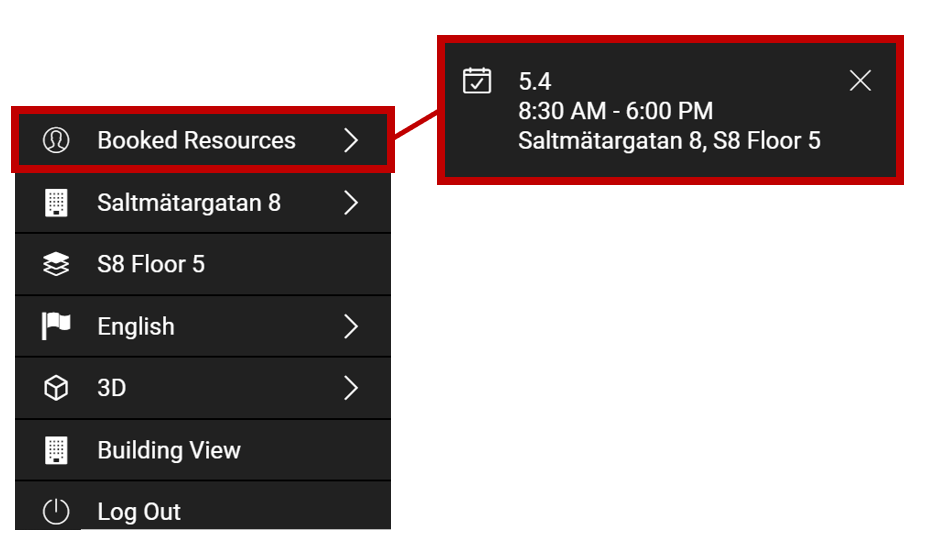 5. Filters & Search
The right side panel enables you to search after meeting rooms, colleauges and spaces, you can also filter the search after certain characteristics. Read more about filters and search HERE.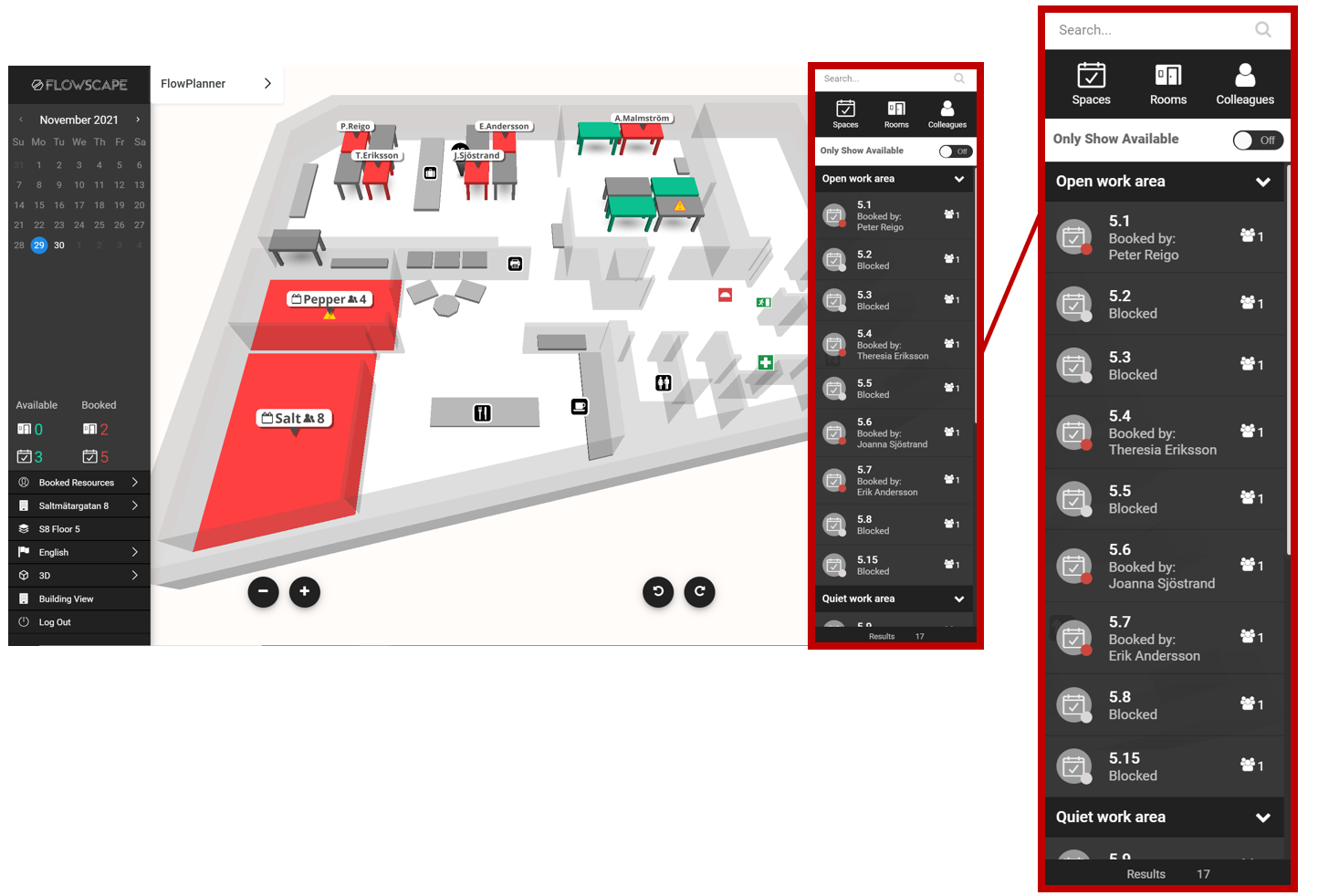 The default panel view depends on the configuration and will usually list available rooms at the office.
6. Quick View Window
When you click on an item or icon on the map or in the list view, a Quick View window opens:
Press the "Close" button in the footer to close the Quick View window

Information displayed in the quick view depends on what you click on. Information you can find in the Quick View window Includes:
Item name
Item detailes
Item Equipment
Location
See if an error report has been published for this item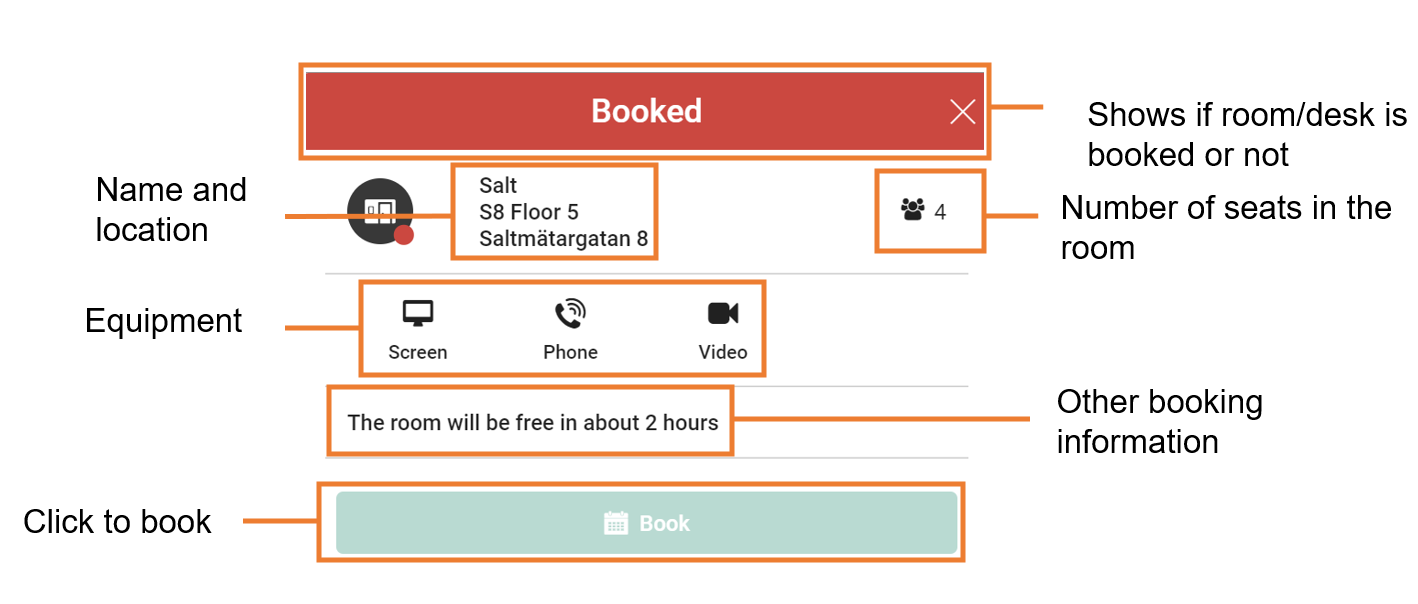 Note: Information and booking options in the quick view window varies depending on the configuration settings for your company.
7. FlowPlanner
FlowPlanner is a web application that empowers employees to efficiently plan their attendance in the office. Flowplanner enables staff to tag specific colleagues in order to view when they will be in the office, so that they can then book the same days if they need to collaborate on project work. Employees can set up a 'colleagues list' to scan all of their future office attendances with just one click. And with one further click a desk or workspace can be booked.